France's Celtic Whisky Distillery can be found in the seaside region of Brittany uniquely facing the Island of Bréhat and generally benefits from the northerly Brittany winds, ocean climes and mild weather.
The distillers there find their whiskies are well placed within the ideal conditions for the aging process and lend a special identity to their expressions.
Such is the case for their newest blended whisky, Gwalarn (which means the northwest wind). It is launching this month.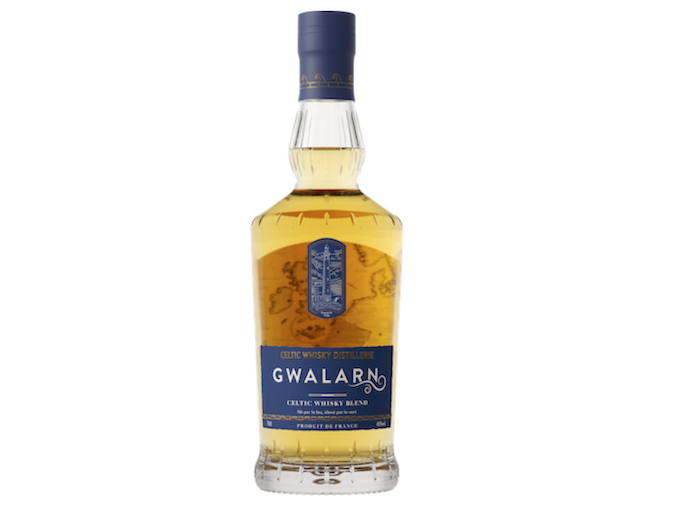 This blended whisky was created as a tribute to the origins of the Celtic Whisky Distillery and their practice of collecting whisky from distilleries in the Celtic region, with the intention to produce a liquid that's said by the brand to be greater than the sum of its parts.
The distillery also makes its own whisky, and noted that its stills are heated over an open flame for slow distillation and wooden fermenters (made from Oregon pine) are also used, which, thanks to their indigenous yeasts, provide greater complexity than stainless steel fermenters.
Similarly, the use of copper serpentine condensers gives what's described as a richer texture and greater aromatic richness. The spirits are ultimately aged in ex-bourbon barrels in a cellar located just by the sea.
The distillers and blenders find that it's not only the marine environment of the Brittany coast that imparts natural flavor, but the distillery itself sits on the area's unique pink granite through which all water is filtered, providing natural filtration and minerality.
The distiller's official tasting notes show that Gwalarn, on the nose, is rich and opulent with the first powerful notes of grain and slight peat giving way to an aromatic palette combining the sweetness of vanilla, the complexity of leather and smoky tobacco and some honey.
In the mouth, the honey extends supported by slight peat and saline notes with aromas of gingerbread combined with flavors of candied fruit.
Jean-Sébastien Robicquet, founder and director of Maison Villevert, said of the new expression in a prepared statement, "This is a new page in the history of Maison Villevert and the Celtic Whisky Distillery. We are building on solid assets and exceptional reputation and adding our dedication to innovate to work hard to create exceptional whisky."
Subscribe to our Newsletter
The best content delivered directly to your inbox.